DeFi protocols have been a very popular part of the cryptomarket, much reflecting the ICO madness of 2017/2018. While many actually make a good payout on their bets on these many protocols, others end up doing very poorly, as did the losing investor. 896 bitcoins after vulnerabilities in the Badger DAO protocol.
The DeFi protocol in question, which runs on the Ethereum network, suffered an attack that took advantage of vulnerabilities front-end of the protocol to drain about $100 million of different investors.
"Badger has received reports of unauthorized withdrawals of user funds. While Badger engineers continue to investigate this issue, all smart contracts are on hold to prevent further attacks. Our investigation is still ongoing and new information has emerged as soon as possible."
Badger has received reports of unauthorized withdrawals of user funds.

As Badger engineers investigate this, all smart contracts have been paused to prevent further withdrawals.

Our investigation is ongoing and we will release further information as soon as possible.

— ₿adgerDAO 🦡 (@BadgerDAO) December 2, 2021
Apparently, of the $100 million lost, 50% was stolen from a single user who alone lost 896 Bitcoins, about $50 million, as reported by blockchain security company PeckShield.
"One of the most affected [pelo ataque] was a user (with a loss of about 900 BTC), and here is the transfer hash."
Interestingly, the transaction that drained the user's funds had a fee of just $42.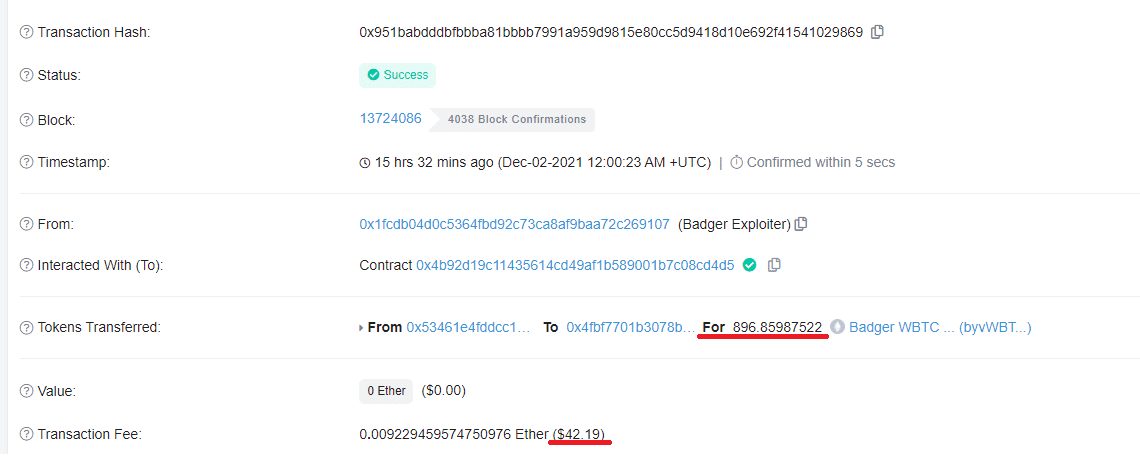 Like other DeFi projects, Badger DAO guarantees investors dividend earnings by contributing to the protocol pool.
It is relatively popular, being the 23rd largest protocol on the Ethereum network, according to DeFi Pulse. Last month the network's pooled value totaled $1 billion, a pretty sizable amount for DeFi.
And now, Badger?
The hacker attack happened just a few days after the protocol's one-year anniversary, and as you might imagine, the results of this can be quite complicated. For starters, a hacker attack can generate a chain reaction that can end up damaging Badger's ecosystem.
Lack of confidence in the project can make many decide to withdraw their funds to safe addresses to avoid losing their money, which makes more people fear it will collapse and withdraw even more money leading to the end of the pool.
However, another thing we should pay attention to is that Badger has paused the contracts to prevent further unauthorized withdrawals. It also halts the withdrawals of investors who are genuinely frightened by the situation.
This creates even more concern on the part of investors and raises fears about project centralization (which may be paused or changed by managers).
Apparently, the future doesn't look very good for this project itself, but of course that doesn't mean he can't recover from the situation.




livecoins.com.br