Key facts:
It is possible to rent hotels, houses and apartments with bitcoin in the most popular cities.

Pinamar, Mar del Plata, Villa Gesell and El Bolsón are just some of the options available.
The Atlantic coast becomes the center of Argentina's tourist scene every summer. In those first months of the year, prices tend to skyrocket and tourists must be quick to find rentals to spend a few days off. It is a scenario that is repeated every season.
However, times change and even the oldest traditions adapt to new trends. That is how bitcoin (BTC) is gaining its place as a form of payment in more and more accommodations of the coastal towns.
An example of this is the Playas Hotel, located in the city of Pinamar, in the province of Buenos Aires. This town, located just over 300 kilometers from the Federal Capital, is one of the most popular in terms of summer tourism in the country.
Through a partnership with the firm Kriptonmarket, Playas Hotel now offers the opportunity to pay for accommodation with bitcoin. It is a 4-star hotel that, according to the results shown on Google, offers rooms for two guests starting at ARS 22,000 (approximately USD 102, at the market price of the currency at the end of this article). In bitcoin, the value would be 0.002 BTC, according to the CriptoNoticias price index.
Other options to go on vacation with bitcoin
In addition to this alternative, there are other options to be able to spend your vacations in Argentina paying with cryptocurrencies. For example, Various rentals are offered in the Bitcoin Argentina Facebook group both on the coast and in other regions of the country.
In this group, it is possible to find a house in El Bolsón (in the middle of Patagonia) for ARS 2,000 (approximately USD 10) per day; another in Las Grutas (also on the Atlantic coast, but in Río Negro, south of Buenos Aires) at the same price; or an apartment in San Bernardo (also a coastal city).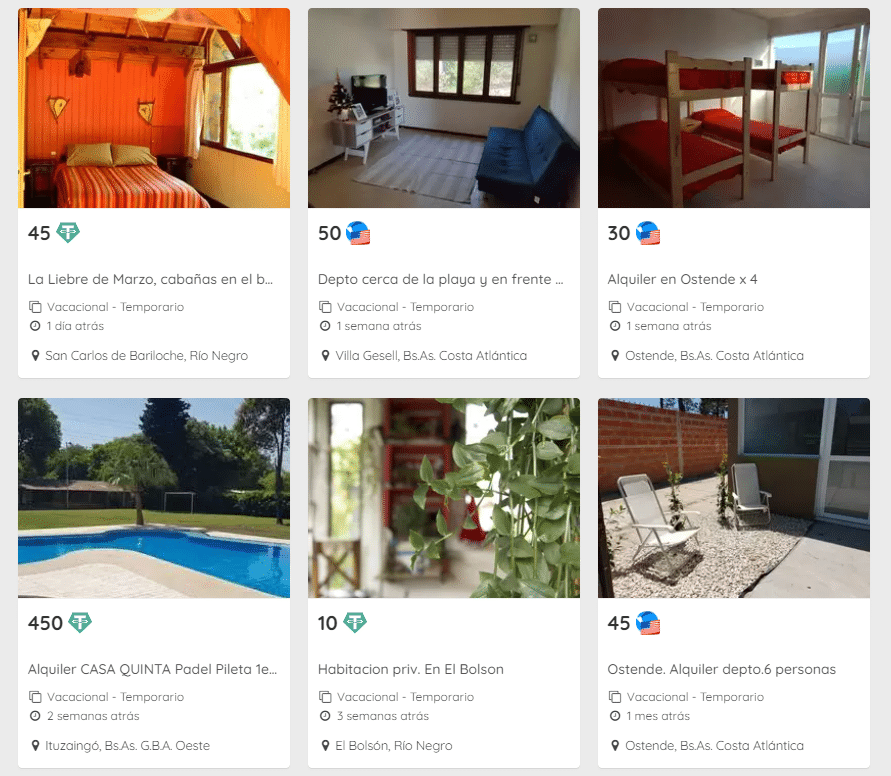 Similarly, in the Cryptoavisos marketplace there are several opportunities for travelers looking for rentals in Villa Gesell, Ostende, El Bolsón, Villa Carlos Paz or Mar del Plata, among other options. In all cases, the preferred form of payment for the homeowner is a stablecoin such as tether (USDT), USD coin (USDC) or terra (UST).
If a person is interested in buying a property in any of these locations, they can use various alternatives to do it with bitcoin that have already been reported in CriptoNoticias. Clik Aparts and WGW Developers, or the aforementioned Cryptoavisos, are some ways to find real estate for sale in exchange for cryptocurrencies.
Finally, there are also possibilities for those who wish to travel abroad. In the same marketplace mentioned it is possible to hire packages to travel to Buzios The Salvador de Bahia, both destinations in Brazil, paying with USDT.




www.criptonoticias.com