Madrid – Correspondent in Berlin
Updated:
Keep

Espen Andersen Bråthen, a 37-year-old Danish man who had come to Konsgberg to work in construction, spread panic last Wednesday in that quiet Norwegian city of 25,000 inhabitants armed with a bow and arrows that he had bought in a sports store. Radicalized in Islam, Andersen indiscriminately fired at supermarket shoppers, pedestrians and police officers trying to cut him down.
It was 35 minutes of terror that left five dead and three wounded.
18.12. First scenes of chaos. Police are notified of an attack in the small town of Kongsberg, located about 80 kilometers southwest of Oslo. According to the agents, there are scenes of chaos in a supermarket. A witness tells the local television station TV2 that she saw people hiding from a man who was on a street corner with a quiver with arrows on his shoulder and a bow in his hand. People ran for their lives, he says. Likewise, the attacker fired at the windows of an office building where employees continued to work. An arrow hit the wall.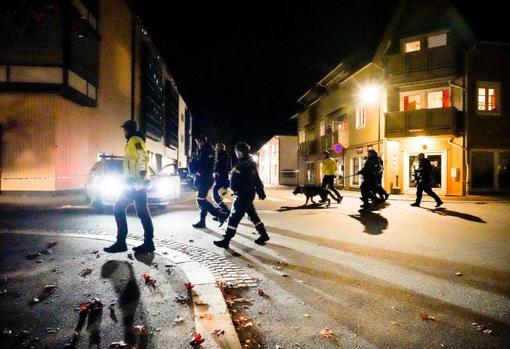 18.18. The Police confront the attacker. The police go to the scene and there is a first confrontation with the suspect, who shoots arrows at them and flees. Cross the Numedalslagen River Bridge and head into the city streets.
Crushes to pedestrians. On his way, Andersen shoots arrows indiscriminately. The victims are four women and one man, between 50 and 70 years old. One is a permit agent who was shopping at the supermarket. According to the Police, the aggressor uses a second weapon, although he does not give more details and the most damage is caused by the arrows.
18.47. Arrest of the attacker. The police officers finally manage to arrest the suspect after firing warning shots. According to the authorities, there were previously fears of his possible radicalization after his conversion to Islam.


www.abc.es