The blockchain or blockchain It is one of the technologies that has burst onto the scene with the greatest force in the context of digital transformation, without which it would be impossible to understand the new economy that is currently taking shape.
Climate change, energy transformation and the exponential growth of the population are other inputs of this new era in which sustainability is no longer an option for companies. Technology and preservation of the planet go hand in hand to illuminate interesting business initiatives such as the one presented by Nozama.
The startup, one of the benchmarks in digitalization of sustainability, is dedicated to measuring companies' commitment to the planet by introducing technology blockchain in the traceability processes of CO2 footprints and single-use packaging.
To do this, it provides a set of cloud-based and cloud-ready technologies blockchain with the objective that its clients achieve the goals that must be achieved through transparency, precision, collaboration between industries and commitment, as explained by the company.
But innovation in the world of sustainability is not new to Nozama. From the beginning of 2019 this company is dedicated to measuring sustainability and since then it has been developing technological applications that help companies and their end customers to practice consumption in a sustainable way.
Track CO2 emissions and savings
His approach is based on the fact that, if you want to achieve a true sustainable culture, it is necessary to carry out a single use packaging (SUP) and CO2 tracking from one end of the supply chain to the other, so that all the actors involved are involved.
Its technology makes it easy for transportation and logistics companies of all sizes, regardless of their operating systems and tools, monitor and track CO2 emissions and savings from your daily activities, in a way that provides control to achieve Net Zero objectives (zero net emissions to the environment).
For this he created a Sustainable Client Profile (Sustainable Customer Profile or SCP in its acronym in English) unique for each of the stakeholders or stakeholders of the retail value chain, which brings together the metrics used for reporting, operational monitoring and marketing tasks. The same goes for plastic.
In short, Nozama helps its customers to trace the CO2 emission along the distribution chain to the final consumer (carbon emitted, saved, emitted and offset…), or trace the recovery of single-use packaging from the final consumer to the recycler (kilograms of packaging recovered, kilograms of packaging recycled).
Better communicate the 'green' commitment
In both cases, it merges the data streams into marketing tools that allow their customers to demonstrate their commitment to the environment and draw up loyalty and incentive plans with their end customers. Now it helps them better communicate that commitment, while promoting cultural actions.
But Nozama has wanted to go further. The company is now taking a qualitative leap by incorporating go NFT (Non Fungible Token) in recycling processes.
The idea is that companies can use them after the approval last July of the European directive that requires packaging producers to collect data on the production, recovery and recycling of single-use packaging and their responsibility to communicate this information to the market.
For this, Nozama has created Plastiks: a token that supports through an NFT the traceability certification of single-use containers (now focused on polypropylene containers and coffee capsules), their recovery and recycling, and links it to the NFT of an artistic work, uniting sustainability and art.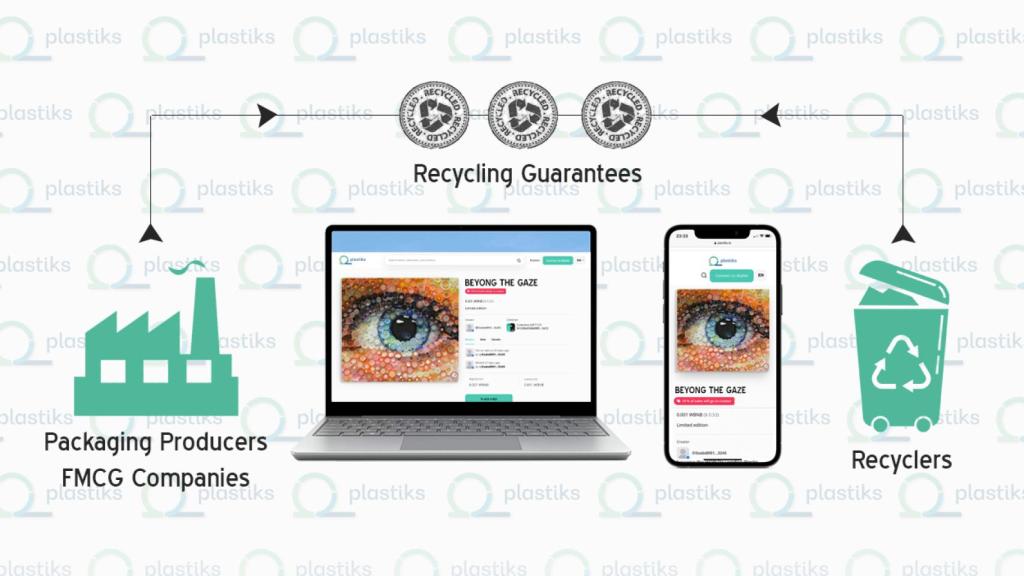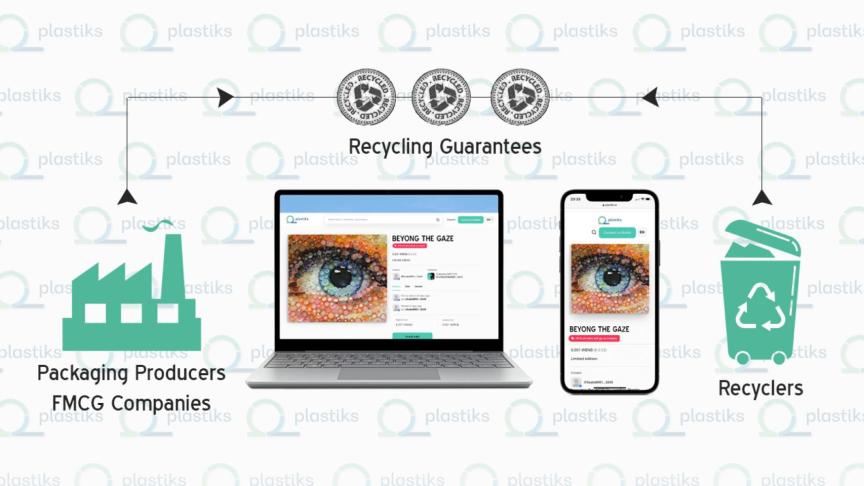 The objective of the token is to provide this sector with the greatest possible transparency while transforming the use of NFTs that we know today (such as those of digital artistic works) into marketing tools for producers and the recycling industry, they explain from the company.
Plastiks is aimed primarily at recyclers, so that they can NFT your data. The plastic disposal NFT is the expression of a guarantee that plastic is recycled and does not end up in the environment, they avoid from Nozama.
By digitizing recycling data to provide recyclers with the ability to develop their brand's sustainability proof, it enables them to use this data in your marketing efforts, clearly showing its positive impact on sustainability.
But the inventors of Plastiks wanted to give it a twist to make it a most effective marketing tool yet.
When recycling is an art
It is not enough to show that a recycling company is doing its job, you also have to show it. How? Joining the NFT of an artistic work (music, painting, sculpture, photography, video, literature,…) with the NFT of recycling, linking art and the environment and sustainability.
It is about being able to communicate the commitment to the environment through an artistic reality that, in turn, has an NFT guarantee. In this way, it is possible to show through a work of art, the guarantee of a recycling process or visualize or listen to each guarantee of X kilograms of recycled polypropylene through the artistic expression that it will have associated.
And obviously, those NFTs can be collected, displayed, exhibited, promoted, and, in short, communicated, and will be the digital graphic sample of the objectives achieved in terms of recycling. In this way, the result of Plastiks is twofold: it promotes sustainability and respect for the environment and promotes art.
But Plastiks also generates your own NFT market. The Plastik token is the means by which you can operate on the platform: mint NFTs, list them, publish them, sell them, buy them, etc.
A revolutionary marketplace
A market driven by blockchain in which the polypropylene producers and recyclers connect and do their part to ensure that plastic waste does not end up in the environment.
Recycling companies may sell the plastic disposal guarantees they will have minted as NFTs, that waste recovery organizations and polypropylene producers will use the Plastiks market they will be able to acquire in that marketplace.
In this way, it becomes an additional source of income for recycling companies by allowing recycling companies sell your recycling collateral as NFTs on the Plastiks marketplace.
Follow the topics that interest you


www.elespanol.com