A case reported by Sophos shows a scheme that starts in dating apps like Tinder and ends up with broken hearts and empty wallets. More than 10 million reais in bitcoin have been stolen in a single scam.
The victims are iPhone users, which although known for their greater security compared to Android devices, still have loopholes that are exploited by criminals.
Other types of scams involving iOS apps have been reported in the past. Among the most recent are fake apps that mimic real ones, all with the same purpose: stealing cryptocurrencies.
looking for a scheme
This type of scam had already been reported by Interpol at the beginning of the year, however, he is still making victims. According to reports from both Interpol and Sophos, the scam started in dating apps, so the criminal gains the victim's trust until he manages to steal from the victim.
After a first contact, with the criminal using someone else's photos, the conversation goes to other messenger applications, such as WhatsApp. Then the victim is sent to an investment site, serving as bait, where he can withdraw a small profit, in the next step the victim is convinced to invest a large amount and then the criminal disappears with his money.
This scam, nicknamed CryptoRom, resulted in the loss of 31.65 BTC of a single victim, the amount being equivalent to more than 10 million reais. According to reports on the Signal Arnaques website, other people were also deceived.
"I met this girl on the "Her" dating app, she was using fake photos stolen from an Instagram account. We went to WhatsApp very quickly. After a few days of talking, she started talking about Bitcoin and pressured me to invest. Tried to lure me with an initial value of 500-1000 dollars. Sent the link to download an app. I don't have more details because I didn't download it."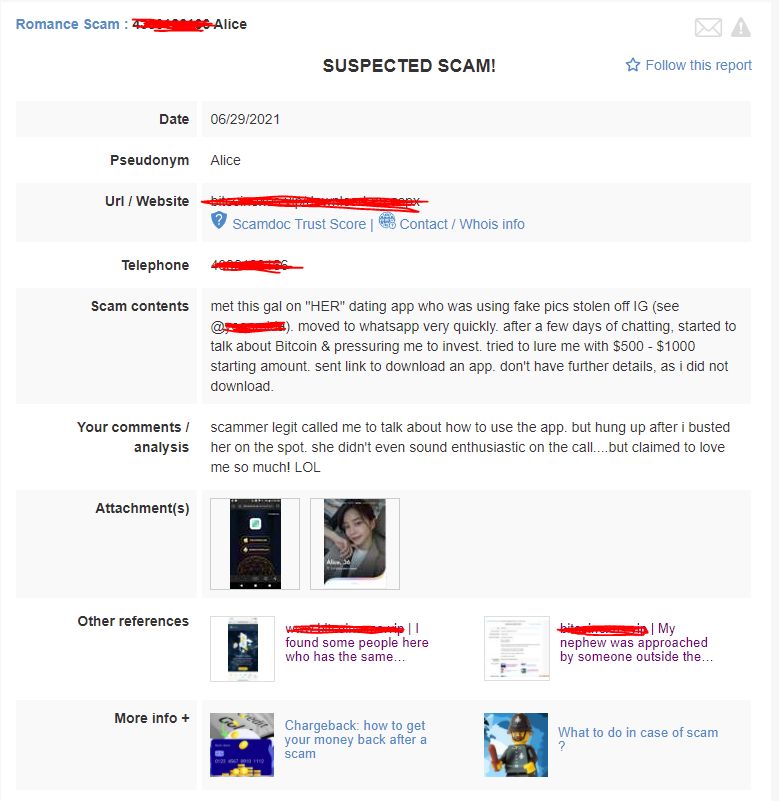 fake apps
Last month, a class action suit was filed against Apple by a victim who downloaded a fake Ripple Wallet (XRP), which carried both the name and logo of an old project that had been discontinued, and was available for download on the App. Store.
In addition, a similar case involved fake websites and apps for both iOS and Android that resembled the real ones. The case, too reported by Sophos, it focused on Asia and used a testing process to allow iPhone users to successfully install the malicious app.
Finally, while cryptocurrencies give their users freedom, they also require them to have a modicum of security. Because of this, it is worth remembering to choose a trustworthy wallet, as well as using strong passwords and backing up your seed. And of course, don't make dubious investments, whether from known influencers or someone you don't know.




livecoins.com.br