Article content
Approximately 50,000 rolls, 75 million square feet, manufactured and installed since October 2013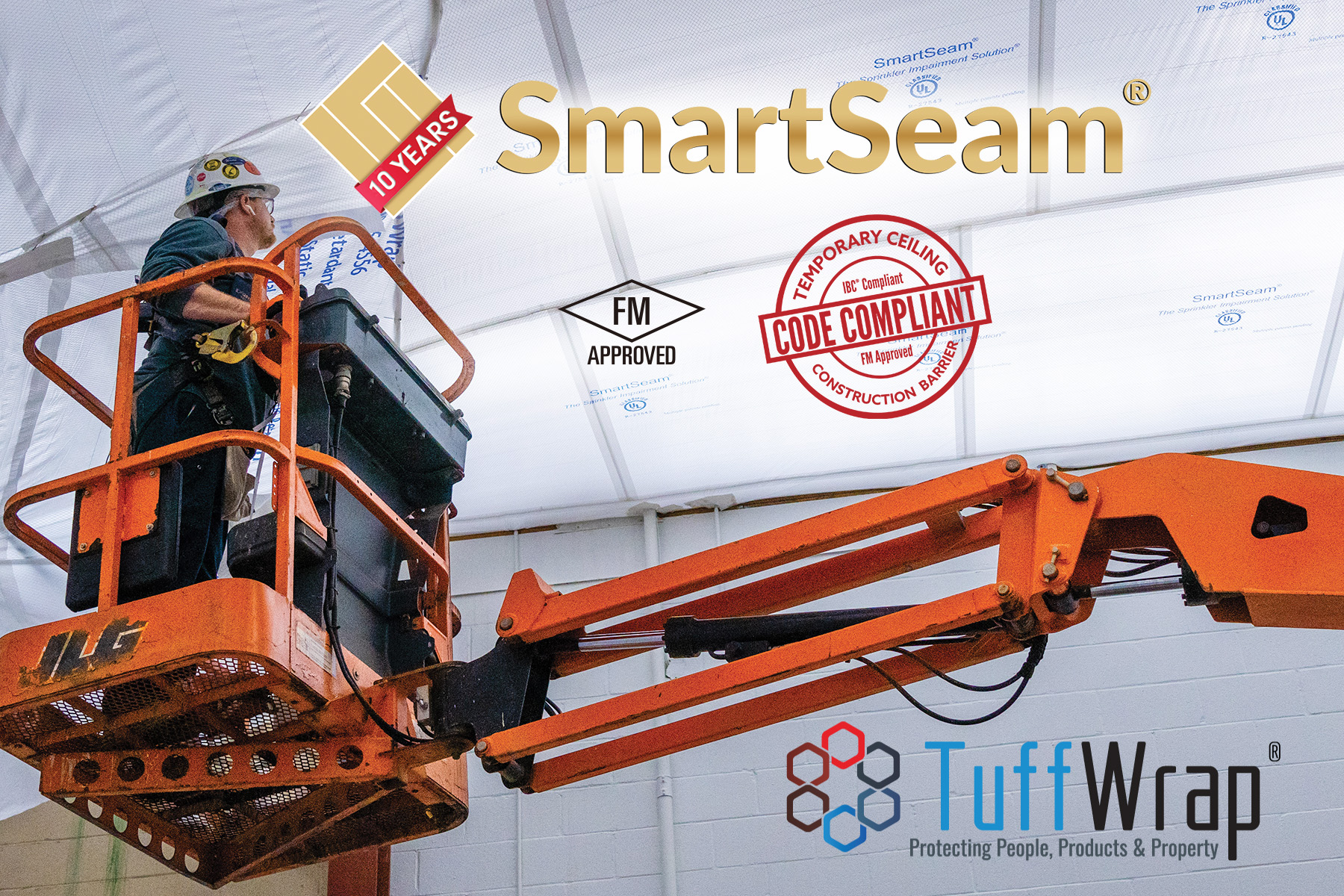 Article content
HARLEYSVILLE, Pa., Sept. 27, 2023 (GLOBE NEWSWIRE) — TuffWrap Installations, Inc., the North American leader in innovative temporary dust, debris, and weather construction containment solutions, will celebrate its 10th anniversary of the first installation of the Tuffwrap SmartSeam® Suspended Cover system. SmartSeam's first use was at a nationally known craft brewing company October 11th, 2013.
Article content
SmartSeam was the first suspended cover product and proprietary installation system that allowed suspended cover to be placed both above and below the sprinklers. Installation above sprinklers eliminated the problem of impeded sprinkler operation. However, it made it difficult to seal around all protrusions at that level. In addition, it introduced the risk of the suspended cover falling during a fire and preventing the sprinklers from extinguishing the fire. Installation below sprinklers avoided the problem of sealing around all protrusions. But it prevented the sprinklers from functioning properly, or at all. SmartSeam® resolved all of these problems.
SmartSeam® is the only suspended cover product and installation method specifically developed and approved for temporary interior protection when installed beneath the automatic sprinklers to mitigate dust and debris. For the first time suspended cover could be installed safely below the sprinkler systems allowing reroofing and repair projects to continue overhead without costly production shutdowns, product recall risks, and most importantly, endangering the people and products.
Article content
In announcing the milestone, TuffWrap president and founder David Campbell commented, "The TuffWrap commitment to solving interior protection issues led to the development of SmartSeam. Prior to its design, production, and installation, suspended cover could only be installed above sprinkler systems. SmartSeam allowed companies to use suspended cover below the sprinkler system as well. We're proud of its widespread acceptance and use in protecting people, products and property."
Today, TuffWrap has manufactured and installed over 50,000 rolls and 75 million square feet of the SmartSeam® System in industries as diverse as:
Food and Beverage
Aerospace
Industrial & Commercial
Manufacturing
Pharmaceutical
Retail
Warehouse & Distribution
SmartSeam is the only suspended cover system that meets all of the IBC International Building Code's EC 043-2020 six areas of compliance – quality, strength, effectiveness, fire resistance, durability, and safety – as well as FDA, GMP, UL 723S, NFPA 13, ASTM E84 Class A, and is FM-4652 Approved.
Further information on TuffWrap Installations, Inc. is available at tuffwrap.com or by calling (800) 995-4556.
Article content
About TuffWrap Installations, Inc.
TuffWrap® Installations is the North American leader in innovative temporary dust, debris, and weather construction containment solutions, keeping facilities operational, providing protection, and helping mitigate your exposure to liability. TuffWrap provides interior and exterior protection solutions to a variety of industries as they undergo reroofing and renovation projects. Protecting people, products, and property from dust, debris, and weather is their #1 priority. It's just the right thing to do.
A photo accompanying this announcement is available at https://www.globenewswire.com/NewsRoom/AttachmentNg/79de125d-5469-43c1-ac4a-77d6e5c8fb5e



financialpost.com