Key facts:
For the representative of the organization there is a "systemic divergence" between the countries.

The pandemic, climate change and computer security are other priority issues.
António Guterres, Secretary General of the United Nations Organization (UN), called for a reform of the world financial system, which he described as "morally bankrupt". In addition, he assured that this "favors the rich and punishes the poor."
In the framework of a speech before the UN General Assembly in which he detailed The most important points that must be addressed at a global level, the Portuguese expressed that the financial system should ensure the stability of economies in economic shocks such as the one caused by the Covid-19 pandemic, but this is not the case. Instead, there has been an asymmetric recovery caused by asymmetric investments, Guterres said.
As a consequence of this, the leader expressed the entity that brings together 193 countries, the poorest nations experience the slowest growth in a generation, while middle-income countries, with rising levels of poverty, are unable to access facilities to alleviate their debts.
This leads to what Guterres described as "a systemic divergence" between developed and developing countries. In this way, what the UN director calls "the recipe for instability, crisis and forced emigration" is achieved.
Most of the world's poor are women and children., added the secretary general of the organization. Such a state leads to deficiencies in health, education and work, he pointed out. In his view, all this is not "a flaw in the global financial system, but a feature."
Other global alarms according to the UN
The Covid-19 pandemic has exacerbated the problems of inequity and poverty that a part of the world population has already suffered from before, António Guterres assured in his presentation.
precisely for that, the resolution of the health crisis is one of the main alarms that the world must attend to today, he stated. The second of these urgent issues is a reform of the "morally bankrupt" global financial system.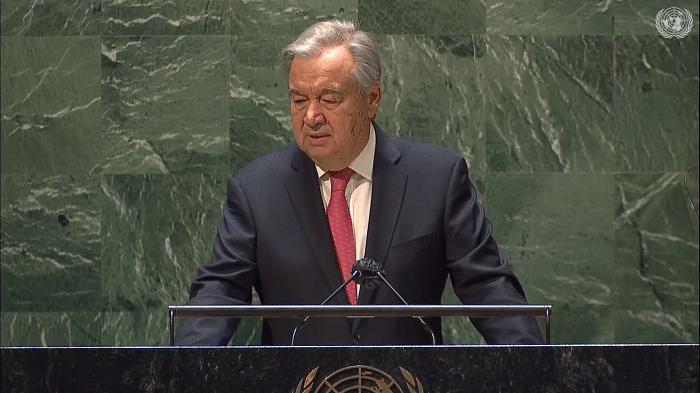 The problems of the digital world are also on the UN agenda. In this sense, Guterres requested to expand internet access for more people and stop computer crimes, misinformation and theft of personal data. For the organization, the latter constitutes a violation of human rights, and it is something that has occurred massively in Latin American countries such as Argentina, as reported by CriptoNoticias.
Likewise, the Portuguese pointed out that it is important to address climate change, mainly through the use of renewable energies and the suspension of explorations in search of oil, gas and coal.
Finally, peace and security in the world are the fifth and final alarm that governments must prioritize, according to António Guterres. "The world is currently facing the greatest number of conflicts since 1945," said the UN Secretary General, thereby calling for compliance with the United Nations peace agreement.




www.criptonoticias.com