A user sent more than 26 bitcoins, about R$ 6.2 million, this Saturday (15) for a scam that is becoming increasingly common, fake lives on YouTube. Although this scam has already stolen BRL 50 million in just one month, the amount lost by this new victim is huge.
The fake live this time was a video using the image of Michael Saylor, CEO of MicroStrategy, promising to double his bitcoins.
In addition to Saylor, other well-known figures in the community are being used as bait. As an example we have Elon Musk, CEO of Tesla and SpaceX, as well as Vitalik Buterin, founder of Ethereum.
How does it work or blow of false lives
As shown by Tenable, scammers use the same pattern every time. In the center, a video stolen from some celebrity, containing a link to a suspicious site. Already on the sides, a promise that your money will be doubled.
With thousands of views and likes, less attentive users end up sending cryptocurrencies to scammers, believing they will be rewarded.
A single user lost 26 bitcoins
As reported by Whale Alert via Twitter, a single user sent 26 BTC (BRL 6.2 million) to a fake Michael Saylor live this Saturday (15).
This time, even Saylor commented on the scam, claiming that there are hundreds of fake lives a week. In addition, he said that it is useless to report them, because in a short time the scammers create other similar content.
"489 scams of this type were released on YouTube last week, we report them every 15 minutes and they are removed after a few hours, but the scammers just release more…"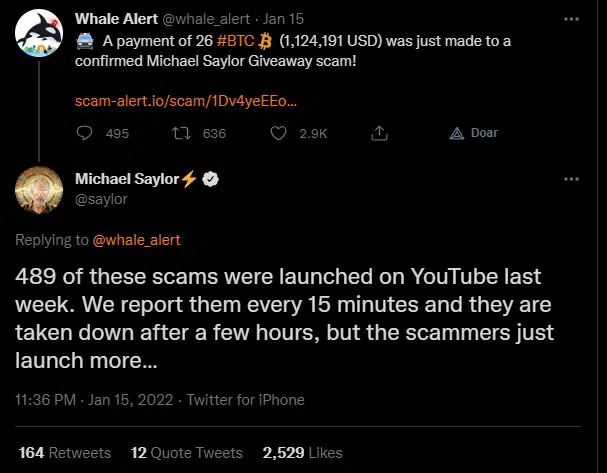 YouTube has also been criticized by Bitcoin Magazine this week after one of her lives was taken down for tackling issues such as Kazakhstan politics.
On the occasion, they took the opportunity to mention that informative content is being banned while scams remain at the top of the results.
That said, the best solution is still to invest in education. That is, people need to learn that no one is going to double their money and/or that they will get rich investing in microcoins.




livecoins.com.br