Correspondent in Caracas
Updated:
Keep

Venezuela has unlocked the border crossing at the Simón Bolívar international bridge in San Antonio del Táchira by removing the containers to reopen land traffic after more than two years of unilateral closure.
The decision to resume border land circulation was announced by the vice president Delcy Rodriguez, who stated in his Twitter account that "as of today, October 5, there will be commercial opening on the border of Colombia and Venezuela."
But the one who carried out the removal of the containers, painting them with the tricolor of the national flag and making a party of that on Twitter was Freddy bernal, called the "protector" of the state of Táchira, a parallel unconstitutional figure of government that imposed
the regime of Nicolas Maduro four years ago to the opponents who won the regionals.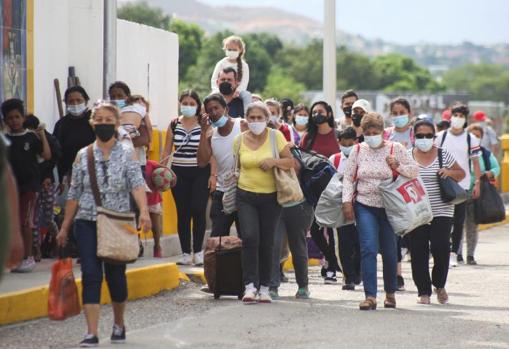 The border blockade especially of the international bridges in Táchira began in February 2019 when the newly installed interim of Juan Guaidó, president of the National Assembly, unsuccessfully tried to bring humanitarian aid to Venezuela from the Colombian city of Cucuta in the middle of an international music festival.
The measure to restart border transit on the Venezuelan side has begun four months after Colombia took the first step of reopening business relations last June, closed 15 months ago during the Covid-19 pandemic.
Dangerous alternative roads
The binational border of more than 2,200 kilometers was the most productive and commercially intense, with an annual turnover of more than 7,000 million dollars. The closure of international bridges pushed Venezuelans to cross the border on the trails (irregular roads) led by criminal mafias and Chavista paramilitary 'collectives'.
During the two years of the closure, the clandestine business of border crossing through the trails and gasoline smuggling flourished, controlled by the Freddy Bernal protectorate. Each person paid up to $ 100 to cross the border and the gasoline stations under Bernal's administration and the military bill up to $ 3 million a week, according to specialized sources.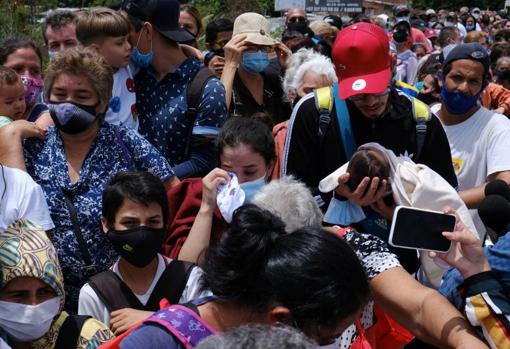 The first to celebrate the reopening was Juan Guaidó. In his Twitter account he said: "I have spoken with President (Iván) Duque about the need for the controlled opening of the border and the reestablishment of Colombian consular services in Venezuela, based on the Vienna convention."
"We are very grateful to the Government of Colombia for opening the border since June 1. These gestures protect the most vulnerable. We know that the benefit will increase with greater opening of our borders and the return of democracy to Venezuela, "added Guaidó.
The diplomatic and consular rupture between the two countries still continues, although the resumption of business relationships and the border crossing somewhat alleviates the hardships of Venezuelans living on the border.


www.abc.es