Key facts:
Alfonso was unable to afford medical expenses with his job as an accountant.

Alfonso currently sells pieces at Foundation for a minimum value of 0.1 ETH.
Fear can be a great engine. And when that fear involves stability and the future of your loved ones, the urge can be life-changing. That is the story of Alfonso Morales: an illness, the possibility of an early death and the future of a family at stake.
Born in a small town (Colón municipality, Zulia state) in western Venezuela, Alfonso had a brief contact with drawing as a child, although that was not the route he followed when he grew up. An accountant by profession, he dedicated himself to doing calculations for companies and state organizations until, one day, he had to make a decision: change his life suddenly, take a leap of faith; or be unable to take care of their own health and leave their own before their time.
Alfonso opted for radical change: he knew about the world of cryptocurrencies and, although he had never entered due to lack of resources, he understood that with non-fungible tokens (NFTs) there was a market for his talent.
But this story started earlier. About two years ago. Alfonso went to a public health center for gallbladder pain. And, far from solving his problems, the attention he received left him a worse sequel.
This started with a pain in the gallbladder. I went to the hospital, they did not do an ultrasound, nothing, they did not treat me as it should be. They injected me with something for the pain without checking the expiration date of the medicine. It was when they damaged my kidneys, I was left with chronic kidney failure because of that. It was not that I had been through things in nature but because of bad attention.

Alfonso Morales, artist and creator of NFT.
From bad to worse
Since then, his health only worsened and Alfonso became a slave to the dialysis machine: every two days he had to travel about an hour outside his city to dialyze. And with the Venezuelan infrastructure in very poor condition, the risk that an electrical failure would stop the process and put it in danger was always latent.
Meanwhile, his deteriorating health It also became an obstacle to opting for jobs in various companies: "Even though I am a certified public accountant, many companies automatically rejected me. I imagine that because of the costs that it would bring them if something happened to me working with them ».
In Venezuela the economic situation (and life in general) was at its lowest moment. Salaries of 2 to 4 dollars a month for public employees like Alfonso's own, hyperinflation, supply problems, failures in basic services. In this scenario, Alfonso suffered from a chronic illness whose expenses it cost him a lot to cover.
Some relatives gave him the idea of ​​opting for a transplant and improving his situation in a more definitive way than connecting to a machine every other day. In Venezuela, the operation could reach about $ 17,000 that he did not have, but his sister found in Colombia (where he resides) a better option: $ 5,500 (plus travel expenses, medicine, etc.) separated Alfonso from his recovery.
Comienzo: NFT in the Binance Smart Chain
That was when he appealed for his talent with painting and the possibility of doing it via the internet. He came across an NFT market that he was able to access easily to start this journey: first, with NFT Showroom, where works are sold with the Hive cryptocurrency. But there sales were few and he had to migrate to a new market. So, he got into AirNFTs, which runs on the Binance Smart Chain.
A short time later, he was already selling his first works as NFT on that platform, with a clear goal: to pay for his operation. The problem is that the tokens in this market are sold for low prices. Looking at the list of NFTs sold by Alfonso, we find a maximum price of 0.09 Binance Coin (BNB), which works out to about $ 55 based on the BNB price at the time of writing.
"I was forced to create a lot to sell," Alfonso tells CriptoNoticias while we have a conversation via Zoom. He remembers that, in addition to producing at a voracious rate to reach the goal, he received some donations that helped him pay for his trip to Colombia and his operation. That intervention happened just a couple of months ago.
Since then, the artist recognizes that his life has improved a lot. And that would not have been possible without entering this new world, which now opens new doors for him, once he has recovered his good physical condition and has much better income than as an accountant: now, he is even doing physical works. He is a full-time artist.
NFT artist, a full time job
In order to pay for his operation, Alfonso not only created digital works like a man possessed. In addition to the donations and funds that came from the sales of his creations in AirNFTs, was forced to sell the vehicle that previously served as transportation for dialysis. He also sold his computer equipment and now works with one that does not have the optimal capacity for his design programs.
Now, the goal has changed: he is healthy and seeks to recover what he has lost. But a stone in the way twisted his plans for a moment: while he was looking for better opportunities for his talents (at AirNFTs the prices of works are very low), he found a good platform and another that ended up being a scam: by connecting his wallet he they took away what I had saved.
That left me devastated because I had my car, which was the one with which I traveled to where I was being given dialysis, I had my good computer equipment, and due to the urgency of the operation, I sold my car and my equipment. And with what I had saved, I hoped to replace what I had to sell.

Alfonso Morales, artist and creator of NFT
Along the way, he stumbled upon an invitation to one of the top markets in the NFT world. Foundation, listed in the top 10 sites for the sale of these assets, according Dapp Radar.
In his Foundation profile, we can see a clear difference: each work does not sell for less than 0.1 ETH, the native cryptocurrency of Ethereum. That is, at the current price of that coin, an NFT of Alfonso equals no less than $ 460 right now.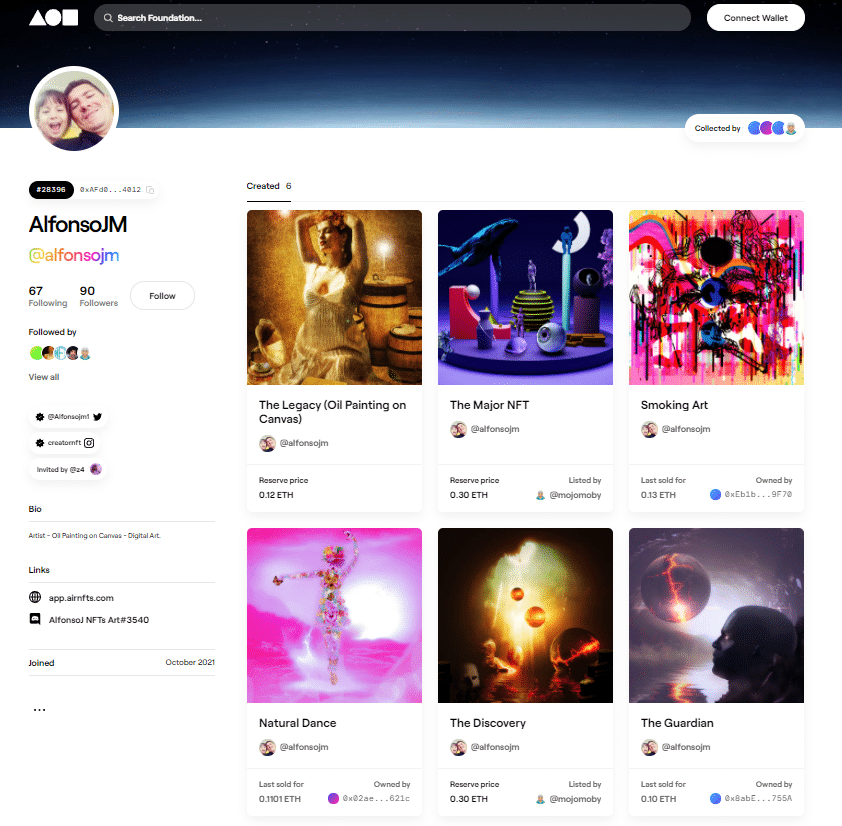 A booming million dollar industry
Until a few years ago, Alfonso's story would have been impossible. Sell ​​works of art around the world, without leaving your home? Not in his best dreams, in the case of someone unknown in the global artistic environment and who until then was dedicated to taking accounts of organizations and companies in a small Zulia city.
But just over a decade ago, Satoshi Nakamoto (pseudonym of one or more people, what difference does it make) changed the world with a small document: the creation of Bitcoin not only revolutionized money, finance, it also gave rise to a gigantic ecosystem and full of opportunities. With Bitcoin, NFTs were also born, digital collectibles that today have captured the attention of all types of organizations and companies in any imaginable field.
Platforms there are many. But if we stay with the main ones, there are up to three that have already managed to move billions of dollars in purchase and sale of NFT. Foundation in particular passed 100 million recently.
How many stories like Alfonso's could there be there? For 6-zero numbers like the ones these markets move, a few thousand dollars sounds like little. But for a person who needs a transplant, selling a handful of NFTs means a lifetime.


www.criptonoticias.com