Key facts:
The blocked accounts could be 'contaminated' with cryptocurrencies tracked by the authorities.

Binance has only responded through its helpdesk and social media.
The month of September 2021 ends and your expectations as a bitcoin (BTC) trader are high regarding its price, so you prepare to make some trades.
However, Binance, a well-known exchange house where you have been operating for years and where you accumulate the equivalent of thousands of dollars as a result of your efforts, blocks your account and passes it to an indefinite review process for which they do not give you much explanation. Your balance is frozen: you cannot deposit or withdraw.
Day after day, more users begin to complain about the same situation on the networks, speculation and rumors begin. Very little information is known. The exchange house has not yet made any statements, beyond a response through customer support that alleges a risk control procedure, and each case could be different.
Then you find out that the holland police could be investigating dozens of Binance users in Colombia, as well as the United States Drug Enforcement Administration (DEA).
Now, in January 2022, your concern and that of many users has doubled, when checking your account balance on Binance you discover that it is totally empty. This is the nightmare that some Binance users have been experiencing since October 2021.
In CriptoNoticias we have echoed your concerns, and even a lawyer told us that Binance has no power to block users from Colombia by order of foreign authorities. But Binance sticks to the guidelines of its service, and continues to heed the instructions of the Dutch police. In the midst of this context, the exchange has not yet clarified why some users' accounts are empty.
Advertising

Why don't I see my bitcoins in my Binance account anymore?
Jairo Andres Velez, Trader of Colombian nationality, was one of those affected by these measures last year, but also one of the users who raised their voices during these last days when they saw that their account did not have the same balance as then.
"Friends, I tell you that Binance has emptied the wallets of the users whose account was blocked…", he said. Velez on the social network Twitter.
Vélez pointed out that by October 2021 he had in his account 1.8 BTC, which at the moment is equivalent to approximately USD 77,000 according to the CriptoNoticias price calculator. But on January 13, after consulting Binance, the exchange house tells him that in your account there is only 0.0003 BTC or about 12 dollars.
This Sunday, Binance responded on Twitter that the cases are under review by the Dutch police authorities. In this way, he left an email address for the authorities in question, without offering more information on why the accounts no longer show the balance they had before, as if the money had been definitively seized.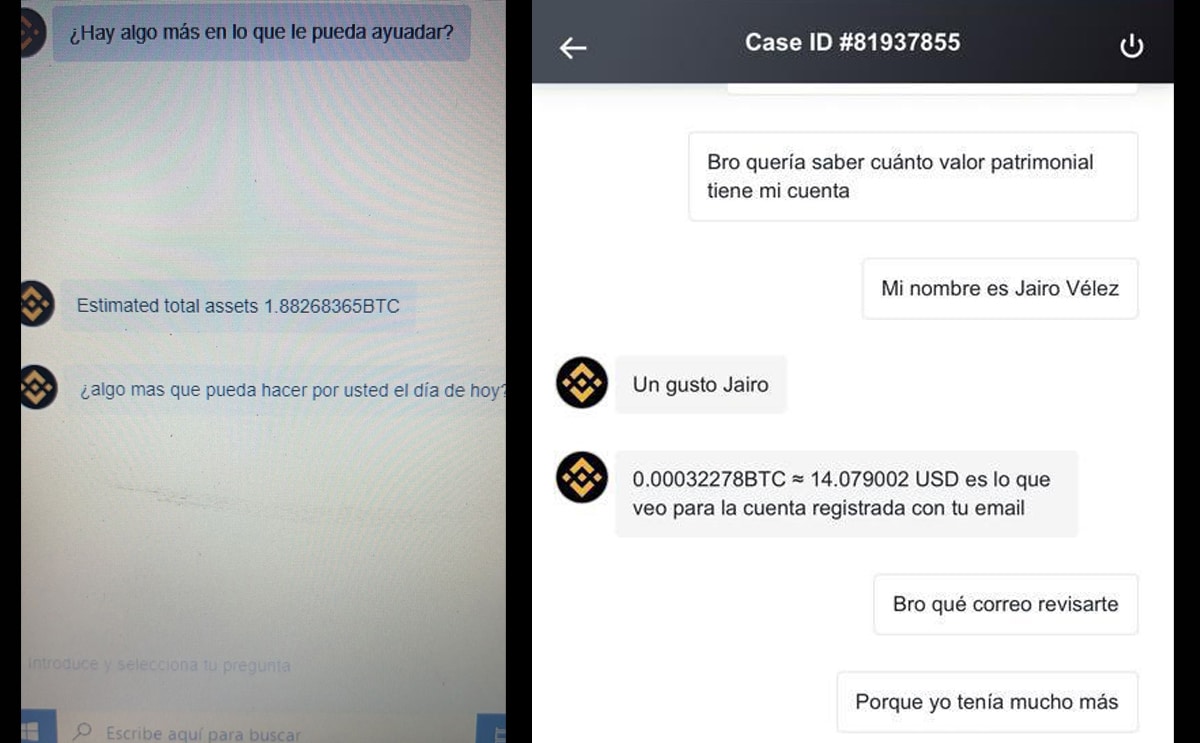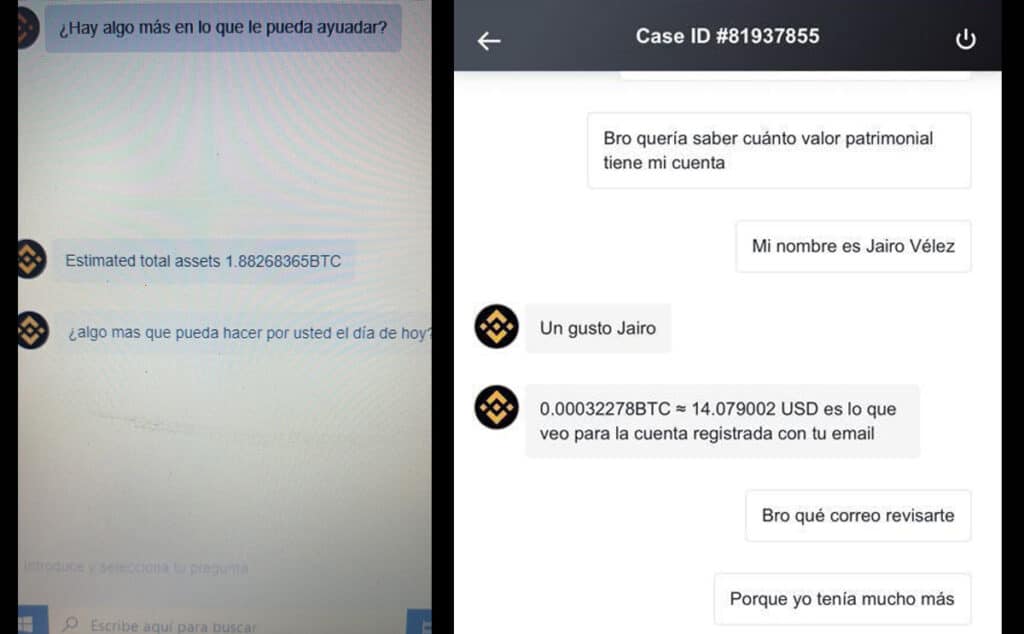 "Hello, the blocked accounts correspond to isolated cases that are currently under review by the Dutch police authorities. […] In accordance with the Terms of Use that are agreed to when registering the account, we are obliged to cooperate with law enforcement, in some cases, legal authorities may order the account to be frozen or the funds seized upon receipt of the corresponding documentation.

Binance.
Jairo Vélez emphasized that until now they have not been able to access a verdict or statement that justifies the freezing of these funds, except for a single email.
"Binance refuses to release that information. Lawyers have requested it, we the affected ones, and they only say that we wait to be contacted by email, and we have been like this for 3 months, "he said.
Binance users organize and look for alternatives to defend themselves
In at least two Telegram groups they meet 150+ Binance users who have the accounts blocked. They are all Colombians, although not all of them are in Colombia, and they share similar experiences.
This weekend, during the discussion about the blocked and emptied accounts, users pointed out that some lawyers have been putting the cases together in large groups in order to reduce the costs of representing them before the Dutch authorities.
Other users have the purchasing power to pay lawyers to represent them individually, but it is not the norm among the hundreds of affected people; Mainly because many of them kept their entire assets in the exchange.
It is also known that some lawyers would not charge for their services until the case is resolved, taking into account that users are looking to get their money back.
To illustrate how complex it can be to bring a case against Binance, last year FinancialTimes reported that during some technical errors that occurred on the platform in May 2021, while the prices of cryptocurrencies fell, users had difficulty making their operations, suffering millionaire losses.
Thus, the media reports that the users organized and raised USD 5 million to cover the costs, asking the New York firm White & Case to represent them. It is plausible that users of Binance Colombia will need to organize in a similar way to make progress in the case.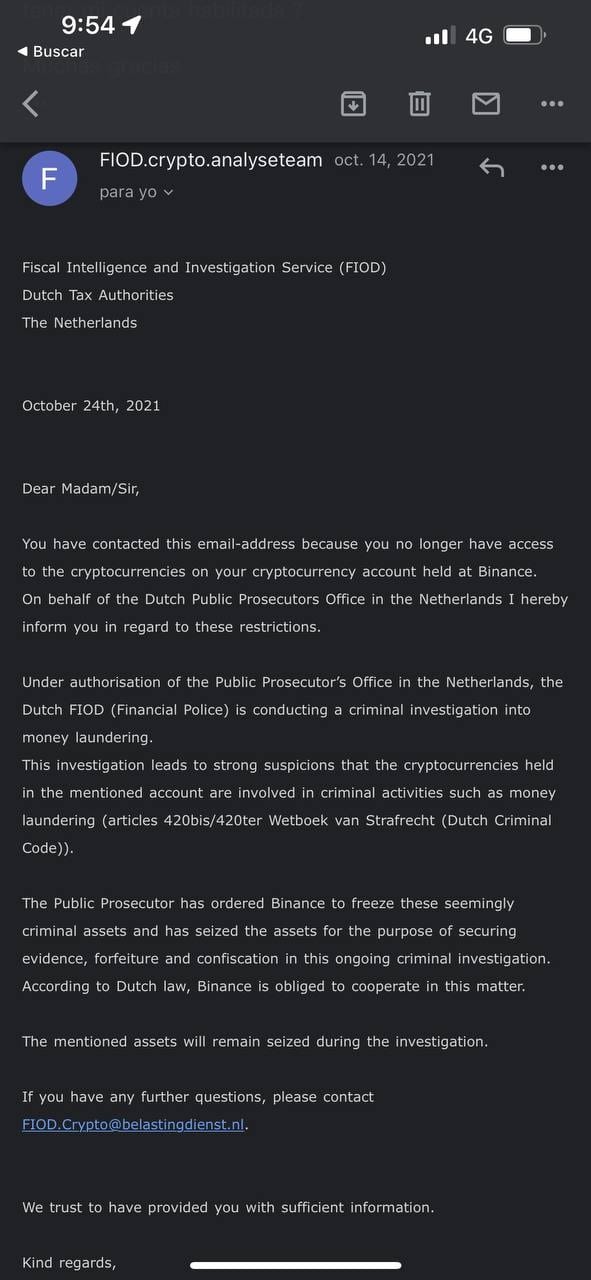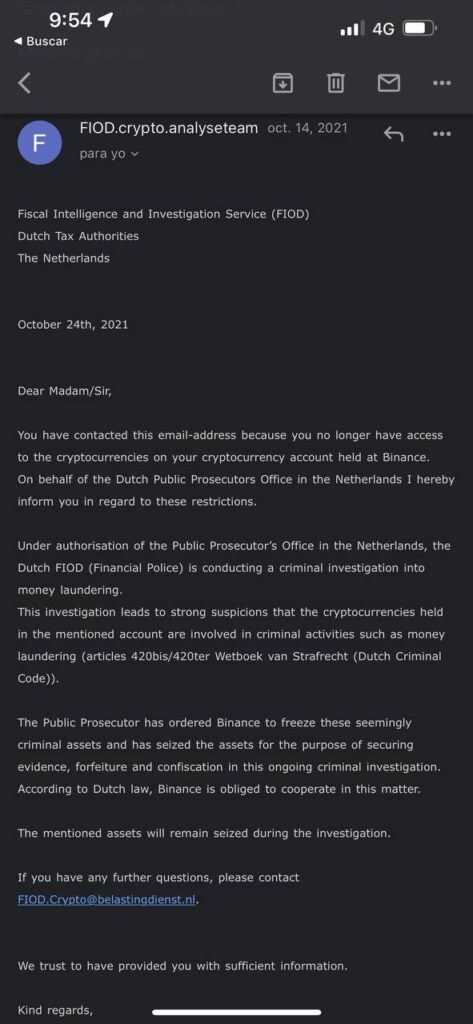 Binance has not given further details of the case of the Colombian users, and each of the users has sent them to write to the email of the Dutch Intelligence and Control Service (FIOD): [email protected]
From this organization, in October 2021, they sent an email to a user explaining that, in effect, Binance has been ordered to freeze the account due to an anti-money laundering investigation. However, 4 months have passed and there is still no update on the case, neither collectively nor individually.
While the intentions of the Dutch authorities are to freeze and even seize the funds for allegedly being involved in money laundering, it has been impossible to communicate with Binance's legal representatives outside of their technical support and automated chat.
Why doesn't Binance handle cases with legal assistance?
The nature of the company makes it somewhat elusive to the requirements of the users in this case. Binance is an exchange registered in the Cayman Islands, a well-known tax haven, and It does not have a public physical headquarters anywhere in the world.
It could be said that it is a decentralized organization in this aspect, but this makes it difficult for users to contact said company.
In fact, according to documents from the Colombian Chamber of Commerce, Binance is registered in Colombia with the minimum requirements to formalize its presence in the country.
Binance Colombia SAS is a sole shareholder company registered with the Chamber of Commerce on October 7, 2020, with an investment of 10 million Colombian pesos (COP), which is equivalent to about USD 2,000.
Your legal representative is Bryan Benson, Director of Operations of Binance for Latin America, whom we have interviewed in CriptoNoticias. However, Benson has not commented on this specific case.
The physical address of Binance Colombia is located at number 9367 of Carrera 13 in Bogotá, Colombia. However, those affected in this case have gone there and according to their testimony, not even the security personnel of the building know that this company is domiciled there.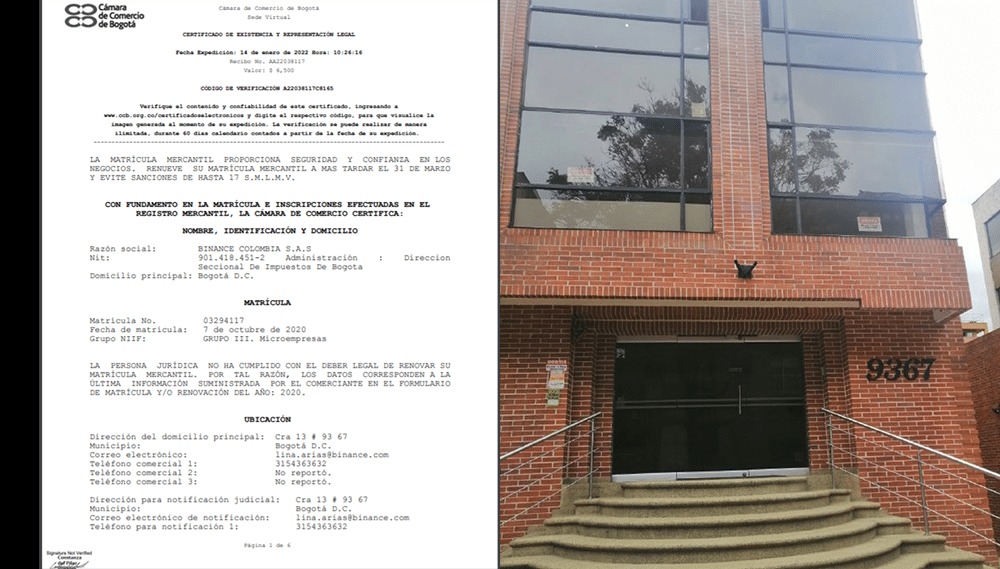 What could have happened for Binance to block the accounts?
The users affected in this case are traders from the P2P (Person to Person) market of Binance, the cryptocurrency exchange site with multiple payment methods available, such as bank transfers.
It is possible that some user has been tracked by the authorities for having committed an illegal act, and has made a trade with other Binance users in their P2P market.
Thus, when a user receives funds 'tainted' or marked as illegitimate, your wallet and Binance account 'becomes contaminated', entering the black list of the authorities who will also ask to freeze their funds.
It should be noted that this exchange did not necessarily occur in a coordinated manner, but rather randomly and casually, without the users being able to realize that these funds came from potentially illicit acts.
This pattern could have been repeated across dozens of merchants who traded cryptocurrencies such as BTC and Tether (USDT), until the authorities finally requested to freeze the accounts, including in the same bag all users who touched the 'stained' cryptocurrencies.
Although this is not confirmed, it is a theory that could explain the blocking of dozens of Binance user accounts in the same country (Colombia). None of the users consulted by CriptoNoticias has stated that they are involved in illicit activities, so they do not know the reasons that would have led to the blockade.
Last year, a report by Bloomberg reported that Chainalysis, a blockchain forensic analysis firm, established that most of the transactions linked to criminal activity went through Binance, more than any other exchange.
Meanwhile, legal actions are being prepared to try to unblock the accounts of blocked users in Colombia and restore their funds, so that they can overcome this unpleasant situation in which they have been for almost 5 months.




www.criptonoticias.com