After a very difficult year, 2022 is challenging for the market, with inflation and asset pricing dynamics. Building a diversified portfolio will require backing up of certain deflationary assets such as gold and bitcoin, these will be essential.
Investors required audacity and intelligence to make their investments and be able to maintain their wealth. with everything, this it won't be an easy task.
A rather complicated scenario, as a result of bad decisions by central banks and in most late cases, putting together a portfolio that keeps the equity intact will take a lot of work.
Deflationary Assets
Bitcoin is an asset for nature deflationary, has characteristics such as limited supply and immutability. Called digital gold, it is currently used as a store of value by individuals, companies and governments.
Companies like Michael Saylor's MicroStrategy LLC, Elon Musk's Tesla Inc, hold millions in bitcoins. Governments such as El Salvador begin to buy their reserves in bitcoins, currently valued at $60 million.
With the loss of purchasing power increasing due to the current scenario and the instability of the market, despite the fact that bitcoin is in a bullish cycle, it is necessary to allocate the asset in the portfolio.
Bitcoin price in the last 10 years. Image: Glassnode
On the other hand, gold has proven itself countless times over time, and more importantly, it finds itself on the list of deflationary assets. This asset also has characteristics such as scarcity, which makes people use it as a store of value.
Throughout our civilization, gold was once the currency, reserve of central banks, and today it is considered one of the best protective assets. "hedge".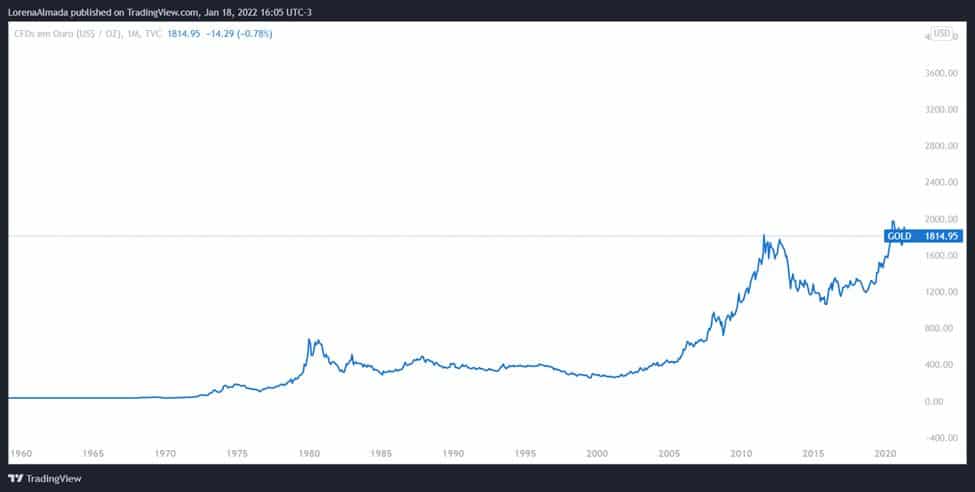 Gold price since 1960. Image: TradingView
Economy and Central Banks
Although nothing new, the inflation rate rose to the highest level in recent years. This as a consequence of the monetary stimulus of the central banks, that is, the printing of money absurdly plentiful.
Only in the USA, in the accumulated of the last 12 months, the inflation rate reached the highest level since 1980, thus, inflation rises to 7% in the American country. Narratives like "transient inflation" are clearly being refuted in reality.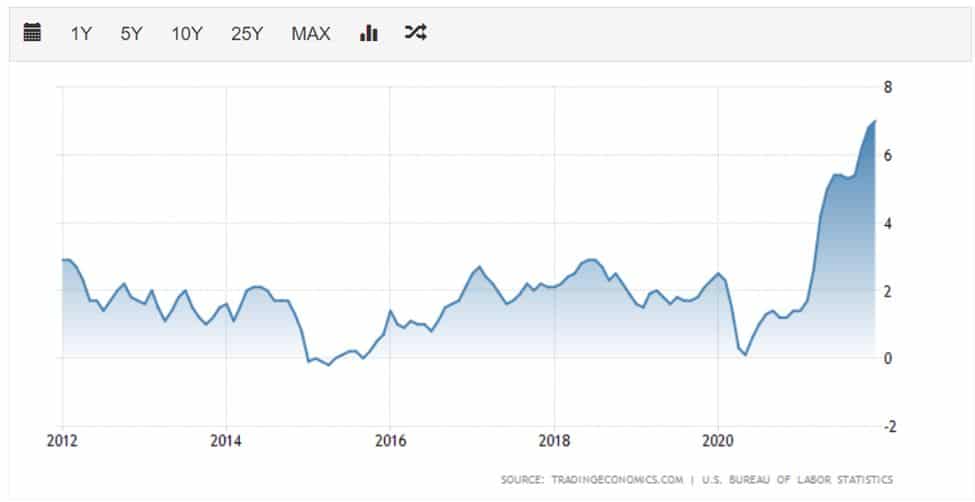 US inflation rate for the last 10 years. Image: Trading Economics.
Already in Brazil, the inflation rate ended the year at 10.06%, the highest level since 2015. The central bank began to act, with the rise in the Selic rate and the fall in economic activity, from this perspective, inflation tends to "calm down" for short periods.
In a more macro scenario, we have a central bank that is compliant with inflation, and as interest rates begin to rise, it impacts the market (asset pricing), so the only way to protect yourself is with assets that cannot be inflated like gold and bitcoin.
For emerging countries like Brazil, in view of the political risk growing, from now on, to have exposure to stronger currencies such as the dollar will also be essential.




livecoins.com.br